AK Ayyappanum Koshiyum Movie Review; Ego Clash between two type of Individuals keep you engaging till end.
AK Ayyappanum Koshiyum is written & directed by Sachy. Biju Menon and PrivithiviRaj acted in lead roles.
This story is about ego clash between Ayyapan Nair (Biju Nair) who's a straightforward police officer and Koshy Kurian (Prithiviraj Sukumaran) who's a military official.
The film starts with Koshy captured by police unfortunately for having Liquor Bottles in the Liquor Restricted zone.
Koshy got furious created chaos and hit few police officers. At the heat of the moment Ayyapan got angry & slapped Koshy twice.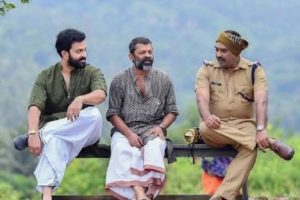 Ayyapan registered multiple cases against Koshy for his violent behavior. This lead him to be remand in Jail for 12 days. Koshy desperately want to get out of there.
Koshy feels He did those things accidentally. He tried to Justify himself but the case was already registered. Ayyappan couldn't help him despite having a thought about it.
Koshy is man who's having arrogant behavior and a influential connection. So that he is having connection with politician, higher police officials and celebrities.
Koshy planned to take a revenge on Ayyapan with the use of his influence. On the other side Ayyapan is straightforward man who only follows rules.
Sometimes he do things with morality. One instance He arrested a man named Kuttapa for using a tribal guy for a assault. It ensures he feels the one who induced is the accused.
Ayyapan married a girl who's tribal when she was portrayed as maoist. She is doing some rebellious activities for rights against some big shot with forming people of tribal.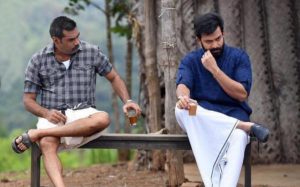 One moment when Ayyappan wife took her child to hospital for health checking. Ayyapan said don't sit in the window seat cause child might get sick due to humidity.
She replied to Ayyapan, He needs to get used to. So that he will never often he get sick like these conditions again. It ensures living code of tribal peoples.
From the beginning each of them having a thought about end this chaos but things were gone beyond their control with decision they took heat of the moment.
Once the ego war between Ayyapan and Koshi started you actually don't know which character you're going support? Which character the director wants to justify? Each character has its own moral value to justify themselves.
Ayyapan completely hates the arrogant behaviour of Koshy and his influential connection. They are very conscious about the clash between them. They are very sure about They shouldn't drag family or other things in it.
But the things aren't the way happened as Koshy expected. His influence connection created unnecessary chaos without his knowledge. He couldn't control it. Ayyapan took the the revenge with help of police connection.
The fight between them is going on and on. We are very curious about how the director is going to end & justify each character.
The entire film is about 3 hours long but you couldn't get boring at any moment cause the conflict started at the very opening scene.
This is a simple ego clash between two types of men. One is arrogant and having influential and other is very straightforward police man.
I really liked the background scores. The songs between placed without even disturbing the narration. The depiction of tribal and their living style seems really good and the song as well.